CHANGING AN E-BIKE BATTERY – THE IMPORTANT FACTS
No power for the motor, no range – on an e-bike, nothing works without the battery, so it's a big issue when it eventually stops working properly. But what do you do when this source of energy has reached the end of its life? In this article, we'll explain the key facts to consider when replacing an e-bike's battery.
E-BIKE BATTERIES AND THEIR LIFETIME
Cell phone, laptop or even e-bike – at some point, all batteries will lose performance. The reason for this is simple – the more often a battery is charged and used, the lower its capacity becomes as the battery ages. Around ten per cent is said to be lost each year due to charging and general use. You may not notice this at first, but if you regularly ride your e-bike, you will one day find that the battery does not last as long as it used to.
It is therefore no coincidence that manufacturers of e-bikes and e-bike drives recommend replacing the battery after a certain period of time. For FIT e-bikes, for example, we recommend replacing the battery after four to five years. Other companies specify the lifetime in charge cycles. A good guideline here is 500 to 1,000 charge cycles. If the battery power drops, it's usually not a problem, because a few kilometers more or less range is only important in very rare cases. However, if you notice that the battery runs out very quickly and you can only ride a few kilometers on your bike, you should consider replacing your e-bike battery with a new one.

IS THE E-BIKE BATTERY REALLY BROKEN?
If you have the feeling that your e-bike battery has reached the end of its life, we recommend going to a specialist retailer before making any decisions. In a professional bicycle workshop, the appropriate analysis tools (e.g. the FIT workshop trolley and the FIT battery tester) can be used to determine whether the battery really is defective and not just fully discharged.
If the battery is only fully discharged, the dealer can usually get it back up and running quickly. If the battery is actually defective, it will need to be replaced. We also recommend this for batteries that have already lost a substantial part of their original capacity. After all, the only way to enjoy the full e-bike experience is with a healthy battery.

BUYING A NEW E-BIKE BATTERY
If the battery on your e-bike needs to be replaced, you will need to buy a new one, and it's very important to choose the right battery. After all, not every e-bike battery is compatible with your e-bike. In addition, due to the popularity of pedelecs, the market is now flooded with low-cost suppliers selling low-quality batteries.
We therefore recommend that you check the compatibility of the new battery with your nearest specialist workshop or the bicycle manufacturer. The easiest option is to replace the existing battery with the same model. For this reason, many companies also offer older batteries for older e-bike models in their service range.

HOW MUCH DOES A NEW E-BIKE BATTERY COST?
One question that comes up very often when buying a new e-bike battery is the price. In fact, replacing the battery – depending on the model – can be very expensive. In the FIT e-bike range, for example, we stock replacement batteries that retail at ca. 750 and 1,500 euros – depending on the type. This may sound expensive but it is definitely cheaper than buying a new electric bike. Replacing the battery is also much more sustainable, as it will allow you to use your existing e-bike for much longer.
CAN I REPAIR MY E-BIKE BATTERY MYSELF?
Now, the hobbyists among us are certainly wondering whether it is possible to repair a defective e-bike battery yourself. We strongly advise against this. After all, improper repairs harbor a significant risk of a battery fire. In addition, you would invalidate any warranty. For these reasons, associations such as the German ADAC (Allgemeiner Deutscher Automobil-Club e.V.) and the European bicycle association CONEBI (Confederation of the European Bicycle Industry) also strongly advise against repairing e-bike batteries.
HOW DO I CHANGE AN E-BIKE BATTERY?
The recommended step is therefore to replace the battery. How this works depends on the design on the one hand and the respective manufacturer on the other. Basically, a distinction is made between batteries that are fully integrated and batteries that are partially integrated. Semi-integrated batteries are very easy to replace – a process that can also be carried out at home. First, unlock the battery with the key and remove the old battery. You can then insert and lock the new battery – and you're done.
Things are more complicated with the fully integrated battery. There is no opening here that allows you to simply remove the battery. Instead, the motor and the wiring have to be removed or pulled out in order to be able to remove and replace batteries. You should not attempt this yourself but let a specialist retailer take charge. The FIT partners in the bricks-and-mortar specialist retailer will be happy to replace the battery for you. On a practical note, dealers are also more than happy to take care of disposing of the old battery.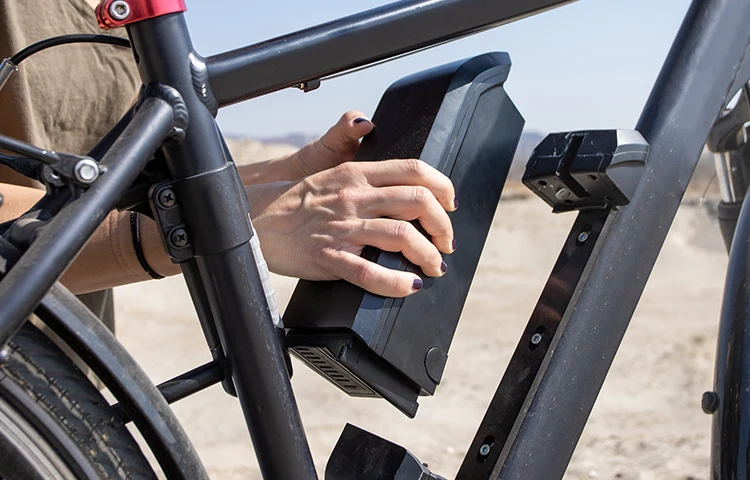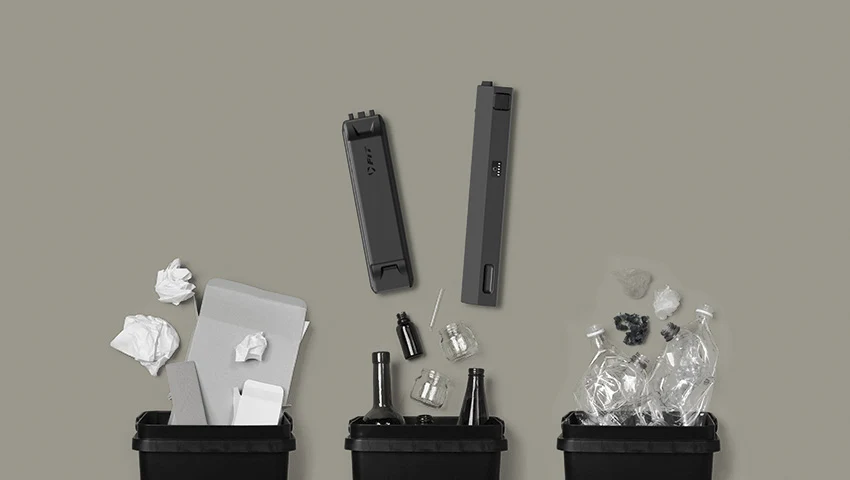 CHANGING THE E-BIKE BATTERY – A SUMMARY
E-bikes are practical and take us anywhere – but there are also a few more wearing parts than on conventional bicycles. One of them is the battery, which will eventually be empty and can no longer be charged. When this happens, you need to think about getting a new battery. However, there are many solutions here and replacing the battery is not difficult from a technical point of view. So nothing stands in the way of many more e-bike kilometers.
Are you wondering whether a fully integrated battery or an externally installed model performs better? In the following blog post, we compare the models and explain the pros and cons: